2009
07.30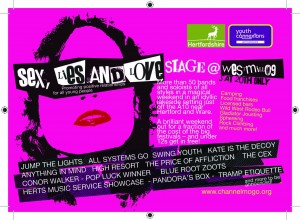 THE SEX, LIES AND LOVE STAGE at WESTMILL FARM FESTIVAL
(Click the pic to go to the festival website!)
Click below to see some of the channelmogo interviews with Sex, Lies and Love Stage bands:
SEX, LIES AND LOVE STAGE BAND INTERVIEWS
Thanks to a very fruitful collaboration between festival organiser Kev Saunders and nationally renowned youth work author and guru Vanessa Rogers (www.vanessarogers.co.uk), Herts County Council Youth Connexions and Hertfordshire Music Service, this year's Westmill Farm Festival features an exciting new addition.
It's called the SEX, LIES AND LOVE STAGE – a dedicated YOUNG BANDS' STAGE on the Saturday of the festival, featuring about fifteen bands and soloists nominated by local schools, Youth Connexions and Hertfordshire Music Service.
Presented, compered and managed by a committee of young people overseen by Kev Saunders and Vanessa Rogers from Youth Connexions, this stage aims to promote 'positive relationships for all young people'. With that in mind, the whole Youth Connexions team will be on hand at the festival with advice and counselling services on issues such as self-esteem, respect for yourself and others, sexual health, breast cancer, cervical cancer, bullying and much more besides. As well as T Shirts and balloons, there'll be specially branded SEX, LIES AND LOVE condoms for the over-sixteens – and the team will be canvassing the audience for their thoughts on the subject.
But there's much more to this project than music – the Westmill Farm Festival stage is just the launch event for a much bigger pan-media project involving video, exhibitions, a CD and a book.
THE SEX LIES AND LOVE BANDS
The following are just some of the bands confirmed – most of which have been proposed by the Youth Connexions Panel of young people, who all voted for the bands they'd like to appear. Four more acts appear courtesy of Herts Music Service, through their bi-annual songwriting competition and finally CONOR WALKER appears as winner of East Herts Council's POP LUCK young vocalists' competition (for which Kev was one of the judges).
POINT BLANK
THE PRICE OF AFFLICTION
HIGH RESORT
JUMP THE LIGHTS
ALL SYSTEMS GO
SWING YOUTH
CONOR WALKER – POP LUCK WINNER
HERTS MUSIC SERVICE SHOWCASE with TRAMP ETIQUETTE + PANDORA'S BOX + FRACTURE
KATE IS THE DECOY
ANYTHING IN MIND
BLUE ROOT ZOOTS
In addition to the young bands, there'll be around forty others, notably soon-to-be-huge ZARIF, fresh from the BEYONCE UK tour, new wave legends EDDIE AND THE HOT RODS and a host of others playing everything from Death Metal to Ska and Reggae; Hip Hop to Hard Rock, Punk and Funk!
On Sunday that same stage becomes THE INSOMNIA MUSIC LIVE STAGE, presenting, among many others, JUAN ZELADA and TOM DIBB and then, just to be fair to the older crowd, there's the THE OLD(ER!) BANDS' stage, featuring THE DOCTORS, BLIND DRUNK JULES, JOAN OV ARC and BLACKBIRD playing adult-orientated rock and blues covers.
To find out more about Youth Connexions in general, the SEX, LIES AND LOVE project and a host of other information about young people's activities in the county, visit www.channelmogo.org.