2009
11.27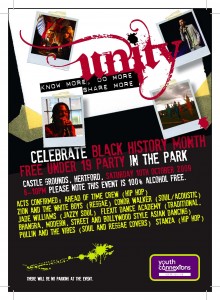 Herts County Council Youth Connexions asked me and my partner in crime, youth work author and guru Vanessa Rogers (www.vanessarogers.co.uk) to help them put together a major launch event for Hertfordshire's biggest art project – a celebration of Black History Month. The result was UNITY, an outdoor free concert at Hertford Castle for more than 500 young people aged up to nineteen. Featuring ten live acts in four hours UNITY was performed by young people for young people – and all the music, regardless of the performers' colour, was influenced to a greater or lesser degree by the rich seam of black music that's never far from the surface in any pop music genre. That includes reggae, ska, funk, hip hop, rock, soul and jazz! Artists included AHEAD OF TIME CREW (Hip Hop), ZION & THE WHITE BOYS (Reggae), Stanza and The Movement (Hip Hop) and, as they say, many many more.
VIEW THE VIDEO by clicking below (then click the appropriate video on the channelmogo page and click the full screen icon)
OUR ROLE:
Collaborating on identity, branding and theme
Writing press releases
Online marketing
Band booking, liaison and scheduling
Overseeing security and logistics, risk assessments and evacuation plans
Co-ordinating PA, staging, lighting, engineers, stage managers, DJs and MCs
Re-recording semi-instrumental version of 'Unity' by James Brown and Afrika Bambaata (to be used at the climax of the show with a tailor-written rap and the young MCs holding PEACE, UNITY, LOVE and HAVIN' FUN placards).